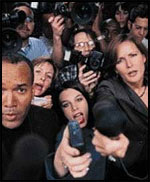 Years as a broadcast journalist and communications director give Bob McAlister an advantage with today's media. He knows their business and how to effectively communicate key ideas through their medium.
His wide-ranging connections extend beyond South Carolina to the national level where he was a media consultant for George W. Bush's 2000 South Carolina presidential campaign, Senators Strom Thurmond and Lindsey Graham, Governors Carroll Campbell and David Beasley and many legislators.
For the most part, the news media are independent and objective and do not slant news based on relationships. Nonetheless, it helps to have someone on your side who understands the media and knows how to be an effective advocate.